Logging into this LMS constitutes your acceptance of the NABTU-MC3 User Agreement - Click here to read.
North America's Building Trades Unions are now sponsoring comprehensive apprenticeship-readiness training programs throughout the United States. These programs provide a gateway for local residents, particularly those from underserved communities, including women, people of color and transitioning veterans, to gain access to Building Trades registered apprenticeship programs. Apprenticeship Readiness Programs are administered by state and local Building Trades Councils, and they feature the Building Trades' nationally recognized Multi-Craft Core Curriculum (MC3).
The Multi-Craft Core Curriculum (MC3) is a comprehensive pre-apprenticeship curriculum. It was developed and approved by the Building Trades National Apprenticeship and Training Committee. In 2012, the U.S. Department of Labor awarded the Building Trades the Department's Registered Apprenticeship Innovator and Trailblazer Award for the MC3 at its 75th Anniversary celebration.
The Multi-Craft Core Curriculum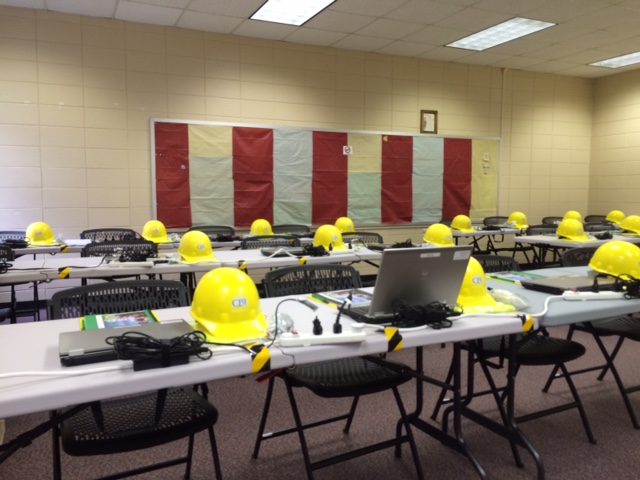 Construction In

dustry Orientation

Tools and Materials

Construction Health and Safety

Blueprint Read

ing

Basic Math for Construction

Heritage of the American Worker

Diversity in the Construction Industry

Green Construction

Financial Responsibility
"As a veteran, this class gives me another opportunity to help support my family and start another career in my life. It also gives these young adults a huge step up in life and a strong grasp at a great career. They will be leaps and bounds ahead of their peers. We are all very grateful for this class and thank everyone for the chance at a better life. Dawn Benitez, Augusta Building Trades Apprenticeship Readiness Program Graduation Speech, February 2, 2015
MC3 Implementation Plan
To access the MC3, a Building Trades Council or their partner organization(s) must submit an MC3 Implementation Plan to the Building Trades National Office.
The Implementation Plan must answer the following questions: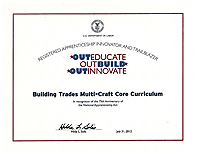 · Who will teach the MC3 and where will the program be located?
· Please list all organizations partnering with the Building Trades Council in this ARP?
· How will the program be funded and what is the source of these funds?
· How many people will be trained and what is the start/end date for the training?
· What is the name of the Council or Council partner representative who will attend the required Train-the-Trainer course, which is designed to prepare coordinators/instructors to set up and teach the MC3? (These Train-the-Trainer classes are offered by the Building Trades Academy – see www.bt-academy.org for the schedule and location of these classes);
· Most importantly, where and how will successful MC3 graduates, assuming that they meet all other requirements, be placed in Building Trades registered apprenticeship programs?
Once NABTU has approved the MC3 Implementation Plan, the Council or their designee will receive user names and passwords for their instructors to access the MC3, along with specific instructions on using the curriculum. For more information, contact Thomas Kriger, PhD, NABTU Director of Research (tkriger@buildingtrades.org) or Art Lujan, Special Assistant to the NABTU President (alujan@buildingtrades.org).